Keeping customers warm during the winter is a vital part of Quality Air of the Carolinas' seasonal services. Our highly-trained HVAC contractors will walk you through the process of finding the perfect match for your home. They will make the purchasing and installation process a breeze. Providing superior heating products and services is what we do best. We hope you will let us prove it to you by calling Quality Air of the Carolinas at (704) 997-5778 today!
Installation
The most important day of your HVAC system is the day it is installed. The knowledge and skill level of the company installing it, greatly factors in on the life expectancy of any installed unit. Understanding air flow and install check points is paramount to maximizing the safety, efficiency and longevity of your system. When it comes to getting a heating unit, it's important that you take your time going through the process to ensure you make the right decision. There are several options available, and choosing the wrong one can be costly in the long run. That's why we calculate your home's ability to retain heat and account for other variables that affect temperature within the home. This allows us to find the unit that will fit your home's needs perfectly. If you find you're having trouble deciding, reach out to us for assistance. You'll be glad you did!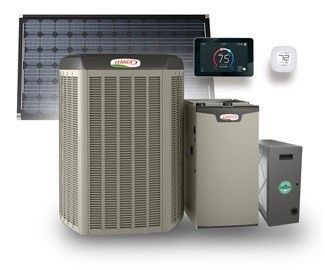 Maintenance & Repair
The best way to keep any HVAC unit running strong is to give it the love and care it needs. A simple comparison is to think about the way you maintain your car. Auto maintenance requires oil changes, engine tune-ups, and more to make sure it's in the best condition it can be. That's how your heating systems should be treated. At Quality Air of the Carolinas, we offer a thorough maintenance plan to make sure your unit stays working efficiently. Regular maintenance has multiple benefits that will save you money now and in the future. Despite the best efforts that go into maintenance, it's vital to have a backup plan. It's important to us that you don't have to deal with a broken HVAC system for an extended period and that the cost of repairs fall within your budget. For this reason, Quality Air of the Carolinas has the equipment and skills to provide timely repairs at great prices. We make sure you can depend on us to correct the problem with your HVAC system when it stops working.
Heating Units
Here is a brief list of the various heating systems we can provide:

Furnace: A natural gas or LP (propane) gas furnace is the most popular option because it is relatively inexpensive and produces minimal waste by-products. Give us a call to find the one that fits your home or business.
Heat Pump: Heat pumps operate in the same manner as an air conditioner, but they incorporate a reversing valve to provide both heating and cooling from a single unit. They're great for keeping you warm; call Quality Air of the Carolinas today for more information!
Ductless AC: Ductless AC units work both ways, keeping people cool and warm. Give Quality Air of the Carolinas a call to find out more!
Cost and decision making for your HVAC choices:
Cost, all too often, is the main consideration for a comfort system installation, but the initial installation cost is not the only cost you should consider. This decision can cost you dearly later-on. The following factors should weigh heavily in your decision.
The quality of the installation is very important. The most important day of your new system is the day it is installed.
• If you go with the cheapest bid, you will probably get a bottom quality installation. Especially if there is a wide cost difference between your bids, the lower bids are cutting corners somewhere.
• Be careful of price gouging. Heating and air conditioning companies need to make profit just like any other business! You need to find the balance between the two. Quality Air of the Carolinas does our best to maintain employ the most knowledgeable technicians while providing the best equipment at price focused on integrity. We want your system to last 15-20 years and set it up to make it
We offer top end equipment and installation materials at affordable pricing. Higher efficiency equipment from all manufacturers tends to be more dependable, as well as, saving dollars at the meters. Those service calls to keep lesser equipment running can cost considerably more, over time, than the initial installation cost for the better equipment.
The higher the efficiency, the less money escapes your wallet on a monthly basis. Lesser quality/efficiency equipment will cost a lot more to operate during it's lifetime, and they tend to fail sooner and more often. Service calls! Our maintenance plan ensure your current system will last as long as it can and your new system will reach maximum efficiency and age.
Quality Air of the Carolinas gives you the choice to add Indoor Air Quality health benefits at lowest in industry cost. For us, its not an upsell, it's a necessity for you and your familes health. We offer lowest cost options with our installs as well as integrating these options into our maintenance choices.
Quality Air of the Carolinas is one of the best heating companies in Charlotte, and we're ready to prove it to you. No matter what you need to keep you warm, we can provide fast, high-quality service at a great price. Don't hesitate; call us today at (704) 997-5778!